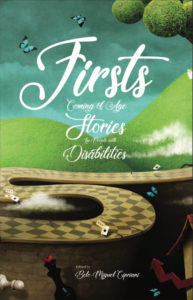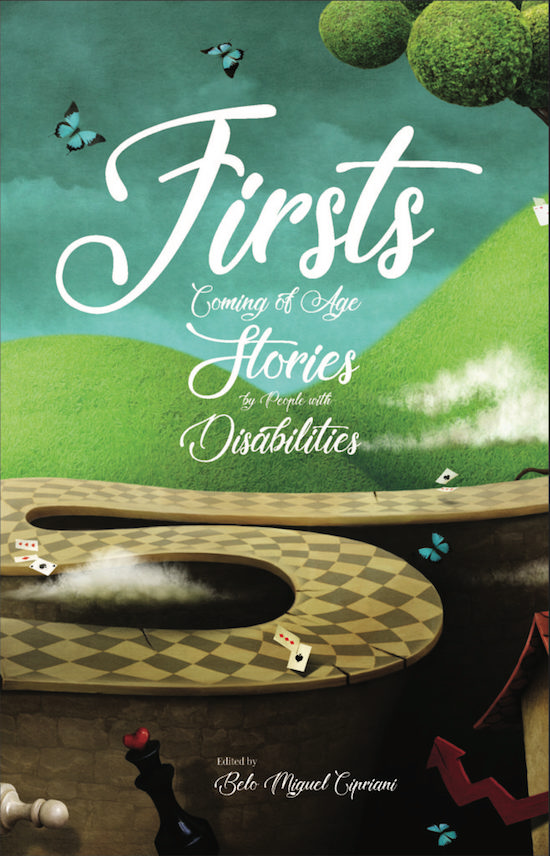 Firsts: Coming of Age Stories by People with Disabilities will be released in October 2018.
Take a step back in time with some of the best writers with disabilities as they recount their first adventure, their first heartbreak, and the first time the unexpected treaded into their life. From body transformations to social setbacks, to love affairs and family trauma, Firsts collects the most thought-provoking and exciting stories of our time by people with disabilities.
Click here to BUY NOW on Amazon!
Click here to BUY NOW on IndieBound!
Endorsements for Firsts: Coming of Age Stories by People with Disabilities
"Powerful and intimate self-portraits from writers who have much to teach readers."

Kirkus Reviews (click here to read the full review)

"The essays in Firsts are a well-written blend of funny, sad, informative, and ultimately life-affirming personal stories, and the collection is recommended highly."

Jeff Baker, Lambda Literary (click here to read the full review)

"…an anthology that should be considered a foundation pick for any collection strong in disability literature and personal stories of growth."

D. Donovan, Senior Reviewer, Midwest Book Review

"I feel like I was given a ring of keys, and that each one allowed me to enter a different world. Each narrator is unique, each world fascinating — at turns heartbreaking, funny and hopeful — and yes, disability is centerstage but it's not the only thing that makes these characters jump off the page."

Amy Silverman — commentator, KJZZ, the NPR member station in Phoenix, Arizona, and the author of "My Heart Can't Even Believe It: A Story of Science, Love and Down Syndrome."

"These eleven authors do not ask for pity or sympathy, they are looking to be heard, to find love, to be creative…to live."

Gregory G. Allen — Diversity Advocate and author of "Chicken Boy: A Super Hero with Autism."

"These authors share stories of vulnerability, honesty, and courage as they create their own paths to overcome negative assumptions about people with disabilities, held both externally as well as within."

Emily Smith-Beitiks— Associate Director, The Longmore Institute on Disability, San Francisco State university
Press for Firsts:
Firsts: The Mini Documentary Series
Based on Firsts: Coming of Age Stories by People with Disabilities, the miniseries profiles three of the book's contributors. It was shot by San Francisco-based filmmaker Karina Sturm, and dives deep into the experience of being a writer with a disability.
I am happy to share that 90% of the people involved in the making of this miniseries have a disability. And all three episodes below include descriptive audio for the blind and closed captioning for the hearing impaired. To view alternate versions, click here to visit our YouTube channel.
Episode 1: David-Elijah Nahmod: David is a 62-year-old journalist living in San Francisco. He lives with PTSD, anxiety and depression.
Episode 2: Caitlin Hernandez:  Caitlin is a 28-year-old writer, singer, songwriter and teacher. She was born blind.
Episode 3: Samuel E. Rubin:  Sam is a 25-year-old, thriving artist who grew up in Oakland, CA. He was first diagnosed with autism at the age of 4.