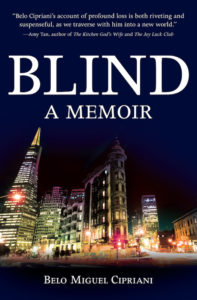 Blind: A Memoir
by Belo Miguel Cipriani
Imagine if the most severe physical pain and sorrow in your life were inflicted by the people you trusted most. In the spring of 2007, Belo Cipriani was beaten and robbed of his sight at the hands of his childhood friends. Blind: A Memoir chronicles the two years immediately following the assault. At the age of twenty-six, Belo found himself learning to walk, cook, and date in the dark. Armed with visual memory and his newly developed senses, Belo shows readers what the blind see. He narrates the little known world of the blind, where microwaves, watches, and computers talk, and where guide dogs guard as well as lead.
Blind: A Memoir is available in paperback, e-book, audio book CD, Audio book flash drive, and mp3 download format. For DAIS or Braille versions please contact bookshare.org
CHAPTER ONE: THE SIREN'S SONG
One of the first sounds I learned to detect and fully understand was the song of a screaming ambulance. As a little boy, I would run toward the window every time that scary noise appeared in my simple world. I would glance back at my mom, my hand flat on the glass, and eagerly await a response. Mom would sadly answer, "Someone's hurt; we should close our eyes and pray for them." As I got older, I realized these massive sound waves didn't just alert one of another's injury, but, in many cases, they shouted that death was nearby and lingering. As I journeyed through different parts of the world, I was quite intrigued to notice that despite the language spoken, that high-pitched tune had the same meaning in every quaint small town and every grand metropolis.
Endorsements
"Belo Cipriani's account of profound loss is both riveting and suspenseful, as we traverse with him into a new world."

— Amy Tan, author of The Kitchen God's Wife and The Joy Luck Club

"Powerful read. Wonderful writing. Raw, real, deep."

— Greg Archer, Huffington Post

"Here is a man who hasn't let a disability define him or limit him. This is what makes him an ABC 7 Star."

— Eric Thomas, KGO TV, ABC 7 San Francisco

"Belo Cipriani has not only shared his talents, he has shown untold numbers of people that life with a disability can be full, rich and rewarding. Blind serves to inspire other disabled people to fight back and to bounce back."

— SF Weekly

"Blind: A Memoir makes an important contribution to queer and disability studies as well as being a rewarding experience for the general reader."

— Susan Krieger, professor, Stanford University, author of Traveling Blind
Awards
Honorable Mention for Best Culture Book and Honorable Mention for Best Non-Fiction, Eric Hoffer Book Awards
Best Debut Book, Rainbow Awards